April 18, 2010 by Bill Nevins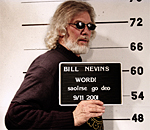 Bill Nevins, age 59, was born in 1947. Nevins comes from a family with strong US military and law enforcement traditions. He was himself classified by the Selective Service as a Conscientious Objector.
Nevins has written and performed poetry ever since he received strong praise from his 5th grade teacher in a Stamford, Connecticut elementary school, St. Mary's, for his original poem written in the style of Lewis Carroll. He later was praised by his high school teachers for writing and reciting poetry in imitation of both Gerard Manley Hopkins and Emily Dickinson. In college, during the Vietnam War, he was praised by both peers and faculty for reciting his own Beat-influenced anti-war and love poems and such classics as Allen Ginsberg's Howl and Greg Corso's Marriage at campus events. He also brought the poets Ed Sanders and Tuli Kupferberg, among others, onto the Iona campus, along with Black Panther/Peace and Freedom Party Presidential candidate Eldridge Cleaver. For this, Nevins was threatened with expulsion by the college administration and physically assaulted by student thugs wearing George Wallace campaign badges. Nevins was treated at the local hospital and he graduated, with honors, in 1969, nonetheless.
Among Bill Nevins's fellow students at Iona College in the late 1960s were the poets Terence Winch, Angelo Verga, Michael Palma, the songwriter Don McLean and the late writer-filmmaker-labor activist Paul E. Delaney.
In graduate school at the University of Connecticut in the early 1970s, Nevins studied under famed poets Sir Stephen Spender and Dr. Epifanio San Juan, Jr. (the latter a leading anti-imperialist literary theorist who publishes actively to this day). Following his graduate studies, Nevins worked in publishing in New York City and in journalism, reporting on the search for peace in Ireland and other matters, both political and cultural, for a number of national magazines and newspapers over the years. His byline is often found in both Z Magazine and Roots World. Nevins also worked as a professional social worker and community organizer in the mountains of Vermont, in southern New Hampshire and in southeastern Pennsylvania. He helped to organize several grassroots, long running international human rights and anti-poverty solidarity campaigns.
A father and grandfather, Nevins raised his children in New England and the Philadelphia area. He moved to New Mexico in the 1990s. Nevins has taught at colleges and high schools in the Northeast and Southwest. He taught at risk students and others at Rio Rancho High School in 2001-2003. At present, he teaches English composition and literature for Central New Mexico Community College (CNM) in Albuquerque. He also writes a popular music column for albuquerqueARTS monthly, contributes articles to FIVE Magazine and serves as an appointed member of the New Mexico Music Commission.
Nevins has continued to write and perform poetry over the years and he frequently reads at open mikes in New Mexico and elsewhere. With poet Priscilla Baca y Candelaria and such literary celebrities as Zachary Richard, he has since 2003 toured the country in support of the Poetic Justice Institute free speech celebrations. He has also been active in Gulf Coast hurricane disaster relief support efforts. In 2006, poems by both Bill Nevins and Priscilla Baca y Candelaria were published in the post-Katrina New Orleans anthology Maple Leaf Rag.
Nevins has published academic work on post-colonial literature and its application in American classrooms. His most recent published journalistic interviews have been with educator H. Bruce Franklin, London reggae poet Linton Kwesi Johnson, Iraqi composer Rahim Al Haj and Texas songwriter Ray Wylie Hubbard.
Bill Nevins thinks that Andy Perry of Easterhouse is the greatest British songwriter of the last 25 years, and won't stop saying so, citing his First Amendment rights to freedom of opinion.
Bill Nevins has always admired Bob Dylan.
Bill Nevins may be contacted for speaking engagements and other matters at bill_nevins@yahoo.com or via Read more »www.committingpoetry.com